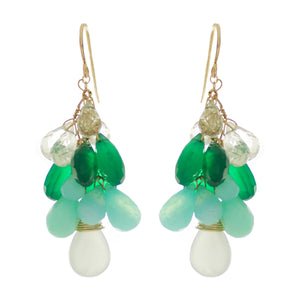 Seafoam Green Drop Earrings
Sale price Price $158.00 Regular price
DETAILS
Drop cluster earrings with a viridescent gradient. The perfect party accessory! Part of the Color Bloom Collections: Seafoam Green
• Metal: 14k Gold Filled
• Material: Aquamarine, Blue Opals, Green Onyx, 
Material Highlight: Aquamarine evokes the purity of crystalline waters and the exhilaration and relaxation of the sea. It is calming, soothing, and cleansing, and inspires truth, trust and letting go. In ancient lore, Aquamarine was believed to be the treasure of mermaids and was used by sailors as a talisman of good luck, fearlessness, and protection. It was also considered a stone of eternal youth and happiness. Today it protects all who travel by, over, or near water, and opens the channels of clear and heartfelt communication.
Opal is an emotional stone and reflects the mood of the wearer. It intensifies emotions and releases inhibitions. Encourages both freedom and independence. 
The Green Onyx is the symbol of restfulness and purity. This green soothing stone has the power to relieve you of all worries, tension, stress, and fears. It is believed to provide a positive feeling, strong mental support and helps to make wise decisions during your difficulties. Green Onyx is associated with Heart Chakra and the planet Mercury. This stone creates a bridge between the upper three chakras and the lower three chakras.
Please note: Due to the one-of-a-kind nature of the medium, exact color patterns may vary slightly from the image shown.