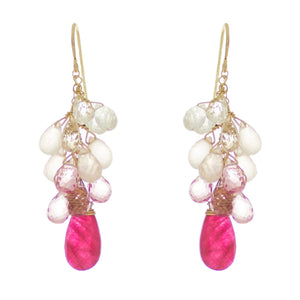 French Pink Drop Earrings
Sale price Price $176.00 Regular price
DETAILS
Drop cluster earrings with various gems, finished with large pear-shaped ruby drops. The perfect party accessory! Part of the Color Bloom Collections: French Pink.
• Metal: 14k Gold Filled
• Material: Ruby, Pink Topaz, Rose Quartz, Light Pink Morganite.
Material Highlight: The fiery and captivating Ruby is a stone of nobility, considered the most magnificent of all gems, the queen of stones and the stone of kings. Ancients believed it surpassed all other precious stones in virtue, and its value exceeded even that of the Diamond. Revered in many cultures throughout history, Ruby has always been a talisman of passion, protection, and prosperity. It symbolizes the sun, and its glowing hue suggests an inextinguishable flame
Pink Topaz personifies hope, allowing one to experience the presence of the Divine. It encourages integrity, honesty, and openness, and brings good fortune in matters of love. Stimulating the Heart Chakra, it aids one in attracting genuine love, not a romanticized version, and dissolves destructive tendencies to obsess over unreciprocated love or waiting for an indifferent person to soften. Pink Topaz helps ease the sadness of those who have been hurt by love or loss and is a marvelous gift to a loved one for a birthday or anniversary to signify affection that will continue to grow over time.
The fair and lovely Rose Quartz, with its gentle pink essence, is a stone of the heart, a Crystal of Unconditional Love. It carries a soft feminine energy of compassion and peace, tenderness and healing, nourishment and comfort. It speaks directly to the Heart Chakra, dissolving emotional wounds, fears, and resentments, and circulates Divine loving energy throughout the entire aura. Reawakening the heart to its own innate love, it provides a deep sense of personal fulfillment and contentment, allowing one the capacity to truly give and receive love from others. 
With its gentle pink energy, Morganite attunes to the heart and the Heart Chakra. It cleanses the emotional body of stress and anxiety, old wounds and hidden traumas, and enkindles lightness within the spirit as if a burden has been lifted. It brings in the frequency of Divine compassion, inspiring the awareness that life's suffering and pain served a higher purpose in our spiritual growth, and can be a catalyst for moving forward in peace and confidence.
Please note: Due to the one-of-a-kind nature of the medium, exact color patterns may vary slightly from the image shown.